Automate Your Trading with Track 'n Trade's AI Autopilot
Reliable. Efficient. Customizable. Let your trading take flight.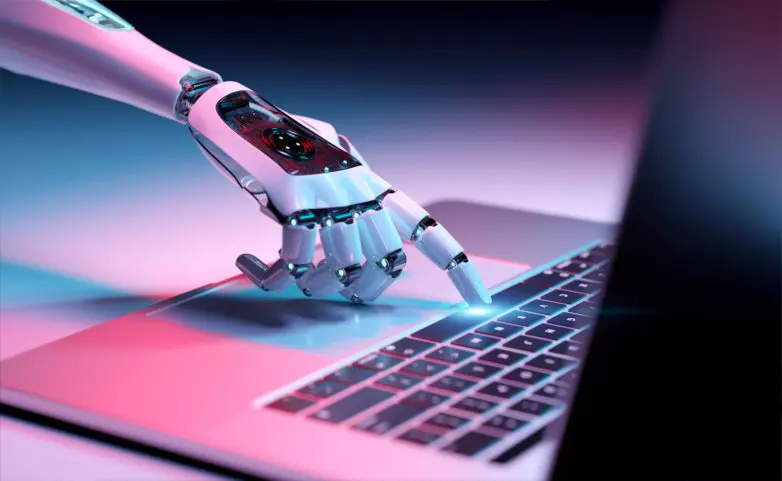 Automated Trading Tailored to Your Needs
Seamless Trading With the Autopilot Plug-in
Create, test and execute your own trading systems
Effortlessly Backtest Your Strategies: Validate your trading methods with robust backtesting functionality.
One-Click Trading: Streamline your trading process with quick, single-click executions.
Build Strategies Without Programming: Point, click, and you're done - no need for complex coding.
Auto-Optimization and Quick Calculation: Make adjustments on the fly, and let Autopilot instantly recalculate results for optimal profitability.
Freedom to Enjoy Life: Don't let trading consume your time. With Autopilot executing your customized strategies, you're free to go and enjoy the things you love most.
Free 14-Day Trial, No Credit Card Required
---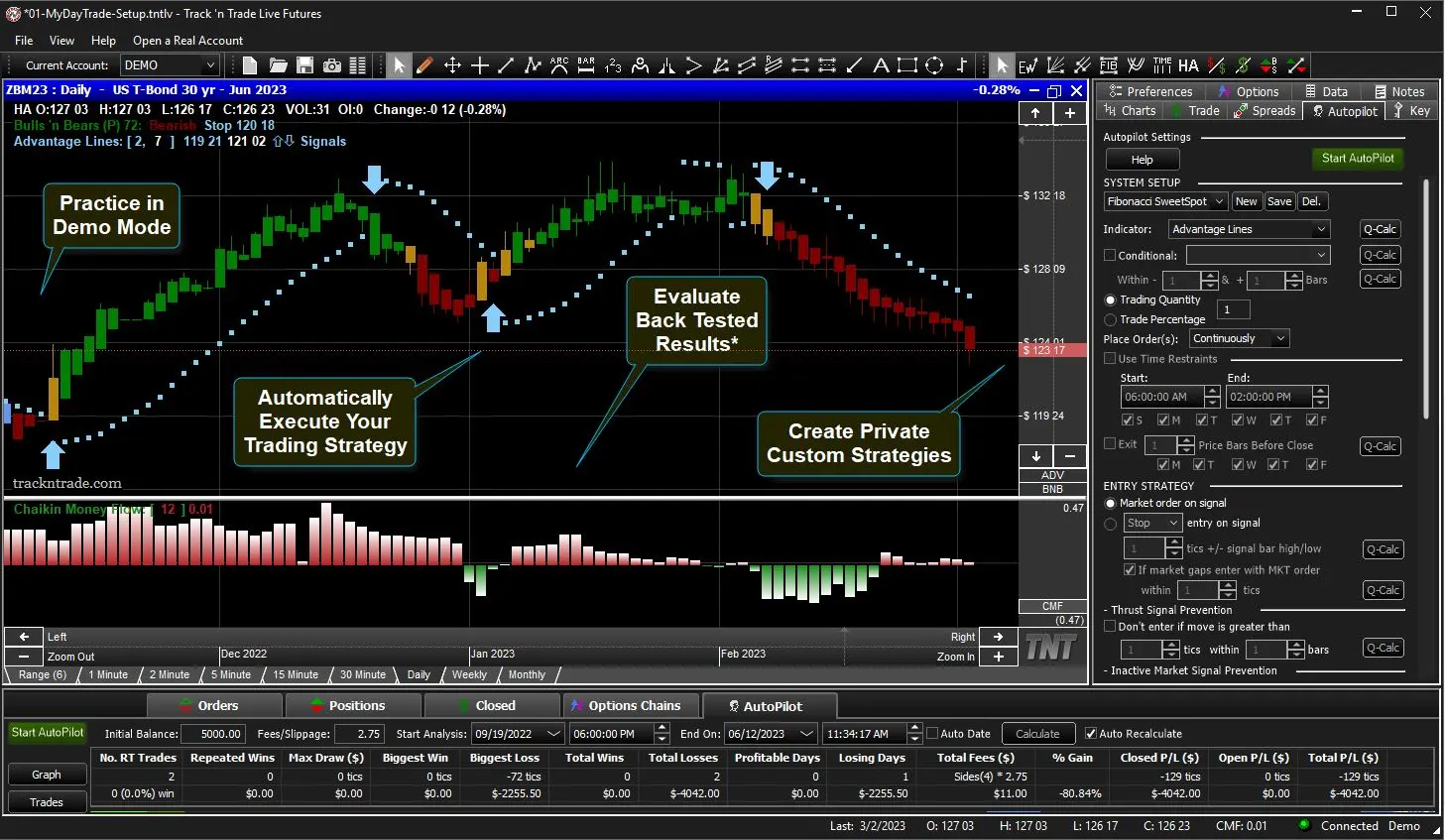 Unleash Your Trading Ingenuity
Design, Test, and Implement Unique Trading Systems
Leverage Customizable Indicators and Entry/Exit Points
Design Unique Automated Trading Systems: Craft and test your strategies using one or multiple indicators.
Flexibility to Combine Systems: Use Advantage Lines as your primary trading system and Bulls 'n Bears as a condition, or explore countless other combinations.
Customizable Indicators: Each indicator is adjustable, paving the way for an endless array of trading strategy combinations.
Tailor Your Entry and Exit Points: Define your strategy with customizable elements like:

Stop/Limit orders
Days of the week/Time of Day
Trailing stops
Jump stops
And Much More!
---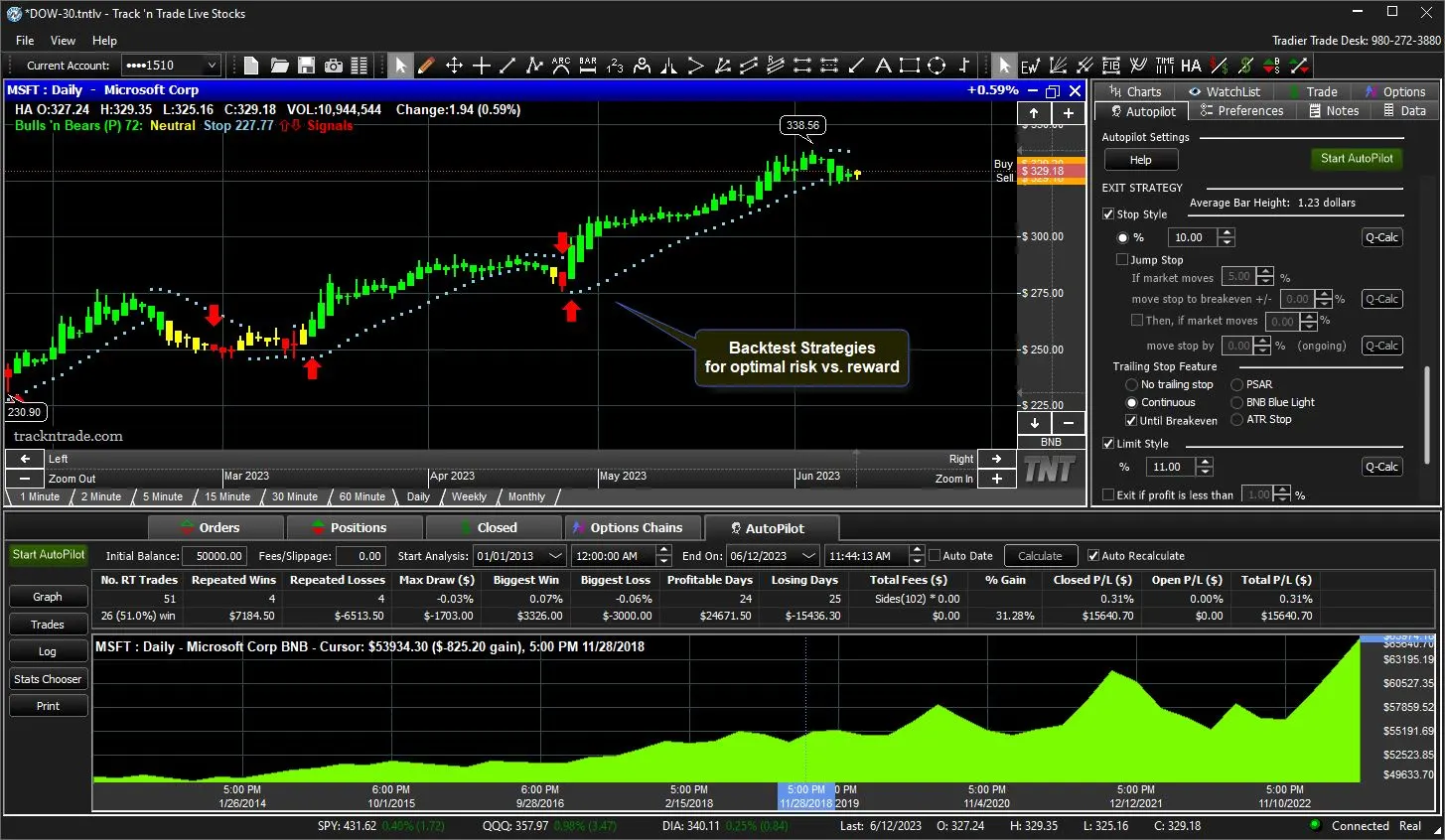 Effortless Trading with Advanced Automation
Backtest and Fine-tune for Optimal Performance
Trade Continuously and Reliably, Even When You're Away
Backtest and Optimize: Use historical data to ensure your strategy is as robust as it can be*
Fine-Tune On-The-Fly: Adjust your strategy as needed with instant result visualization
Live Test Your Strategies: Run your approach in a simulated account for real-time performance assessment
Non-Stop Trading Assistant: Autopilot never sleeps or tires, keeping your trades moving day and night
Maintain Your Lifestyle: Enjoy time with family and friends while Autopilot manages your trades
Create Your Unique Systems: Custom build and test strategies using one or more indicators
Versatility At Its Best: Use Advantage Lines, Bulls 'n Bears, or any combination for different trading strategies
Customizable Indicators: Allow for a wide array of trading strategy combinations
Define Entry and Exit Points: Opt for stop/limit orders, days of the week/time of day, trailing stops, jump stops, and more to suit your needs.
Craft Your Trading Strategy with the User-Friendly Control Panel
No Coding Required - Seamlessly Customize Your Trading System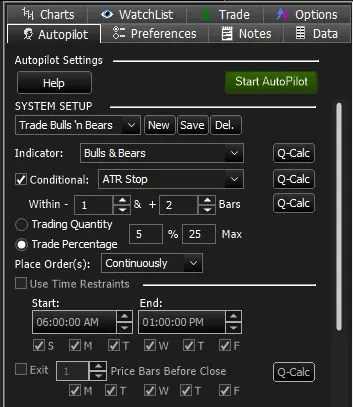 Streamline Your Trading with Autopilot System Setup
Customize Your Trading Strategy with Ease
Set Parameters for Indicator Selection, Trade Quantity, and Time Constraints
Select your desired indicator or trading system for automated execution.
Specify a confirmation indicator for added validation.
Define the quantity of shares or contracts to be traded
Set trading preferences, such as continuous trading or single trade mode.
Configure time restraints for start and end times, along with specific trading days.
Tailor your strategy to your preferences with user-defined variables.
Combine Autopilot with Track 'n Trade's Proprietary Bulls 'n Bears Trading System
---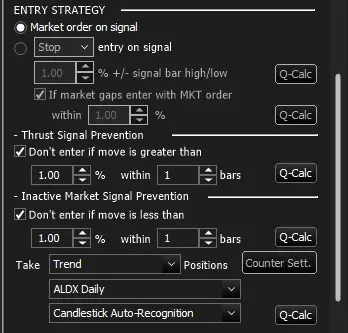 Enter the Market with Precision Using Autopilot Entry Strategies
Tailor Your Entry Order and Customize Filters
Stay in Control with Advanced Entry Signal Filters
Choose between market orders, limit orders, or stop orders for precise entry.
Utilize the "Gap Up" filter to skip using stop or limit orders in case of market gaps.
Setup Thrust Signal Prevention to avoid entering the market during rapid price surges.
Apply Inactive Market Signal Prevention to prevent entry during periods of low volatility.
Define trading direction (long, short, both).
Explore cross-chart trading by incorporating trend signals from other selected charts.
---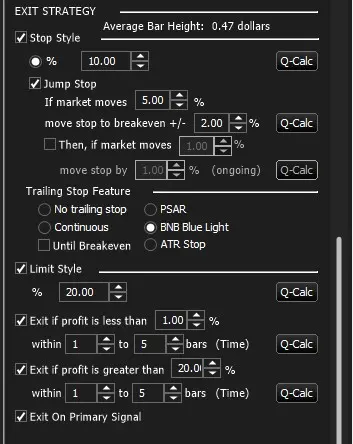 Secure Your Profits or Cut Your Losses with Autopilot Exit Strategies.
Define Stop Loss, Trailing Stop, and Profit Targets
Advanced Exit Filters and Swing Trading Options
Customize stop loss type: tics, points, or percentage based on your risk tolerance.
Implement Jump Stops to automatically adjust stop loss levels as the market moves in your favor, and to protect profits.
Set up trailing stops with various options: points, tics, %, or based on indicators.
Specify profit target with Limit order placement for effective profit-taking.
Utilize the auto exit filter to exit slow-moving markets.
Take quick profits on bursting markets with the profit exit filter based on dollar amount or percentage gain.
Choose between stop or limit orders for exit, or swing trade by reentering on primary entry signals.
---
Harness the Power of Automation Today!
Unlock the Future of Trading with Track 'n Trade AI Autopilot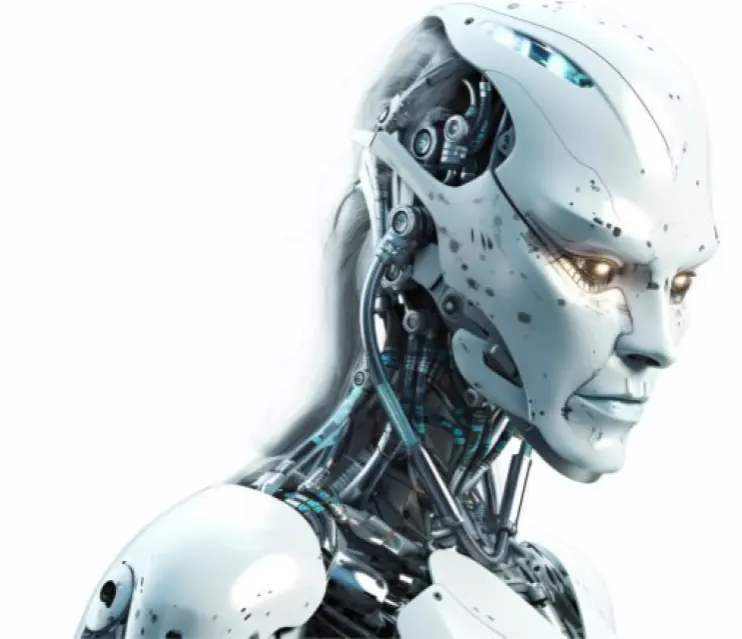 Track 'n Trade Autopilot Plug-in
Free 14-Day Trial
Works With:
Windows 10 & 11
Mac running a Windows emulator
such as Parallels, Bootcamp VMWare, VirtualBox, etc.
*Past performance is not necessarily indicative of future results. See full risk disclosure for hypothetical limitations.
Please Review Your Cart Details
item(s)
We Create Award Winning Technology