Never Miss a Critical Candle Pattern Again!
Watch The Candlestick Auto-Recognition Plug-in Bring Patterns to Light.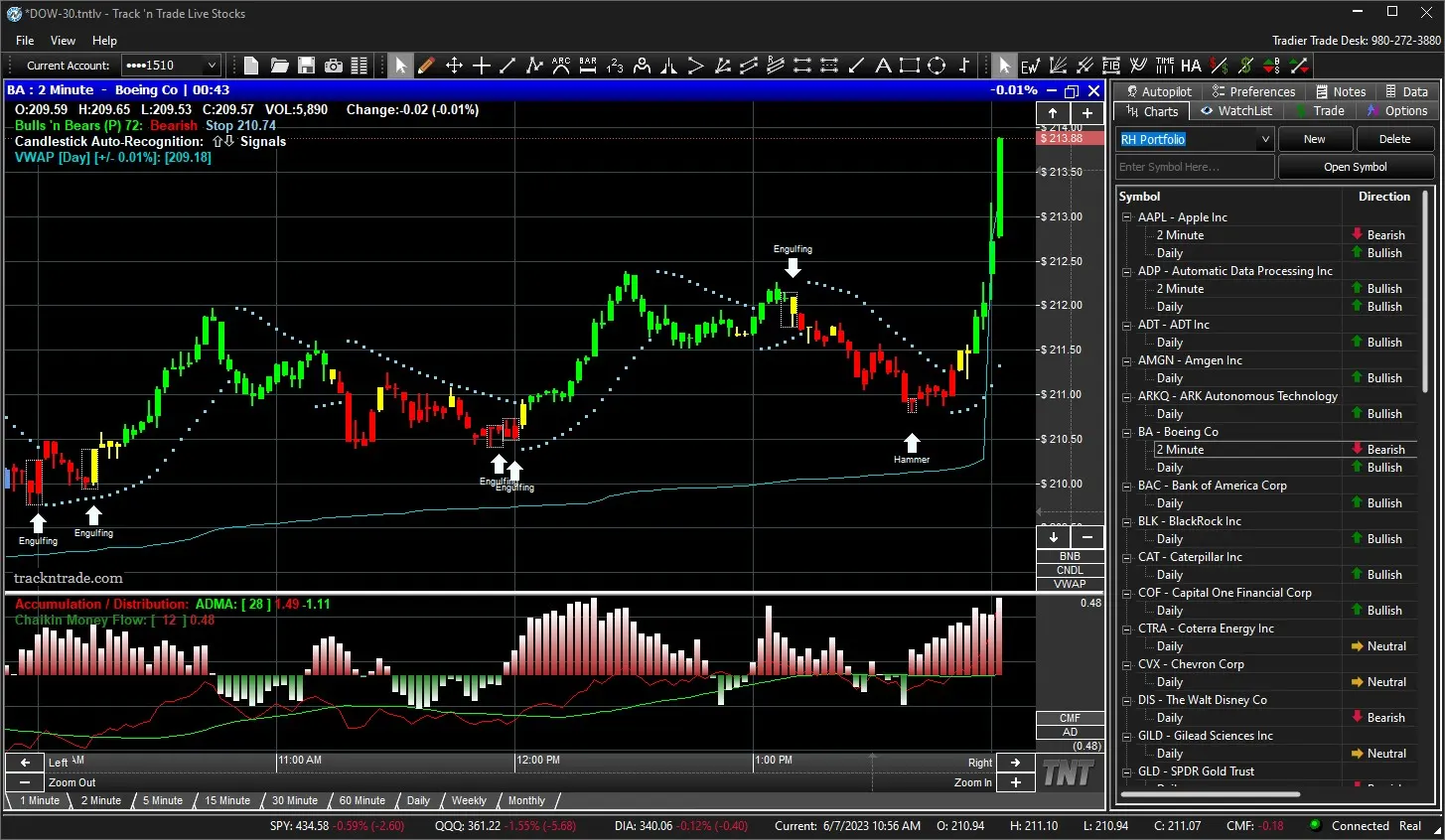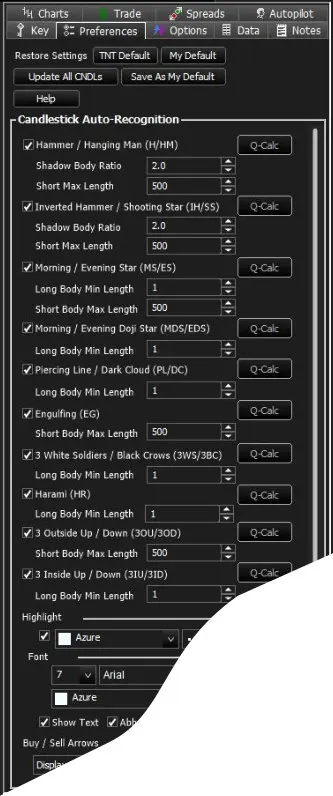 Master the Market with Candlestick Auto-Recognition!
Harness the Ancient Art of Japanese Candlestick Charting
Never Miss a Trading Signal, Even in Fast-Moving Markets.
The pace of the trading world is relentless. With Track 'n Trade's Candlestick Auto-Recognition, rest assured that no opportunity will slip past unnoticed. Our sophisticated system tirelessly tracks market patterns, highlighting potential trades that human eyes might miss, especially in fast-moving conditions. And with integration to our renowned Autopilot, not only will you spot these opportunities, but the Autopilot can automatically take the trade for you. Now, that's trading at the speed of light!
Track 'n Trade's Candlestick Auto-Recognition Plug-in not only enhances your ability to spot key market patterns and trends but also drastically reduces the time you spend on chart analysis.
Customize and even auto-trade your favored candle patterns, giving you the knowledge and the edge for effective price prediction across all financial markets.
Bullish and Bearish Patterns: Detects 18 different candlestick patterns.
User-Definable: Modify and refine each pattern's specifications individually.
Real-Time Recognition: No need for historical scanning - get candlestick buy/sell signals in real-time.
Pattern Identification: Learn to recognize and review patterns by having Track 'n Trade highlight the bars that form each pattern.
Candlestick Labels: Turn on on-screen text that identifies each pattern.
Buy/Sell Indicators: Enable or disable buy/sell arrows indicating bullish or bearish trends.
Visual Customization: Adjust colors to suit any screen background or printed chart.
Save and Retrieve Settings: Keep your personal custom settings, or return to factory defaults with one click.
Experience the Track 'n Trade advantage as we make the famed Japanese Candle Patterns work for you through our Autopilot Trading System.
Experience Clarity with Visualized Candlestick Patterns
Never miss a formation - Witness how our software brings to light critical market patterns.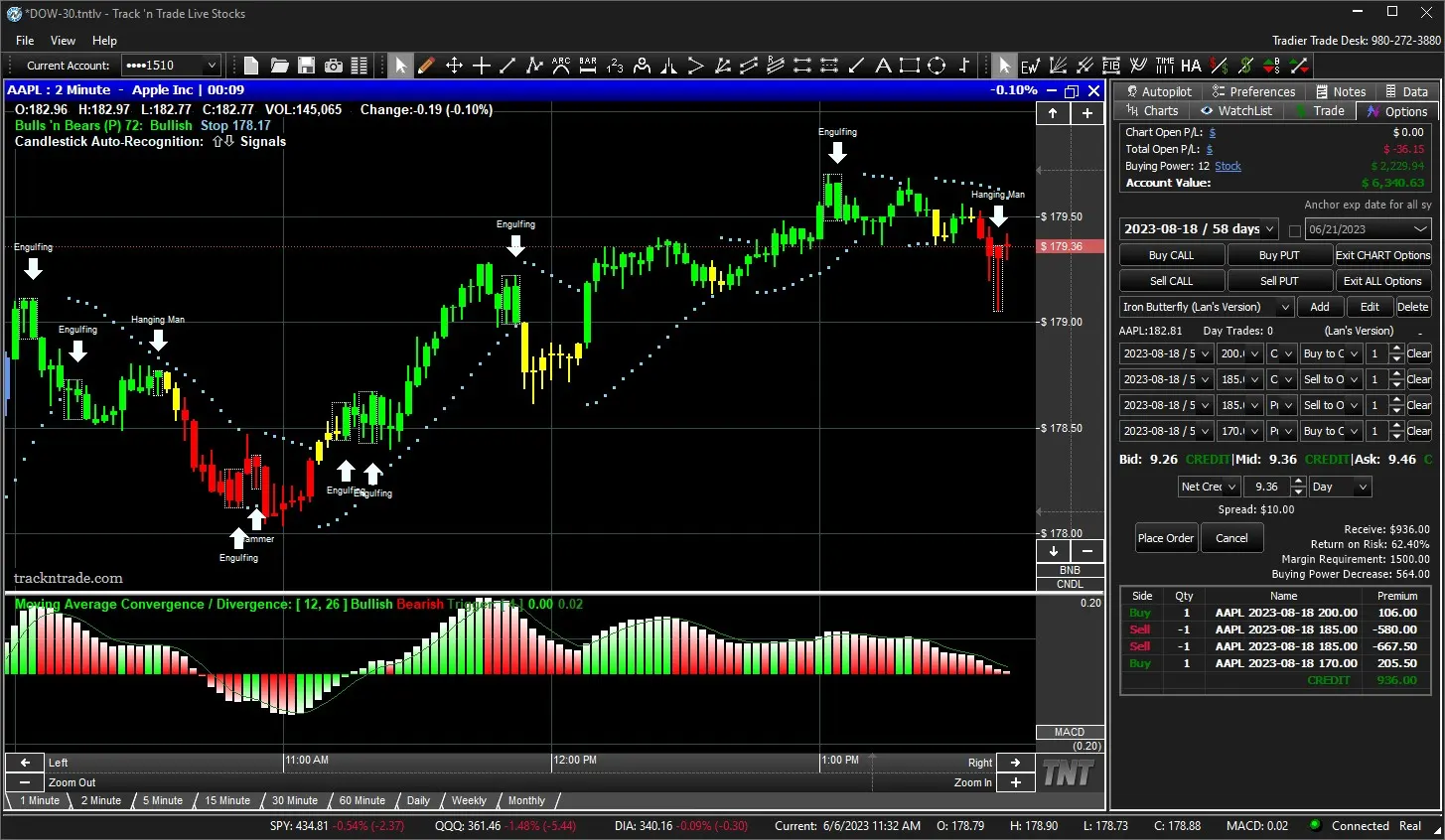 Fully Customizable: Define Your Own Candlestick Signal Filters
Define, and Refine Customized Candlestick Filters
User-Definable Filters for Customized Candlestick Formations
Three crucial aspects make Track 'n Trade's Candlestick Filters indispensable:
Refined Signal Detection: Determine what defines a "candlestick" formation and what makes a "good" signal. Track 'n Trade lets traders refine the criteria for individual bar sizes and their relationships, giving you the power to filter out sub-optimal signals.
Superior Trend Identification: Our software uses moving average filters to help pinpoint signals that indicate the start or end of a trend, separating them from "noise" signals within the trend. Autopilot Integration: Embrace the future of AI trading by leveraging Track 'n Trade's
Autopilot system. With this, you can not only spot and analyze customized candlestick formations but also automatically trade these patterns. The Autopilot ensures no trading opportunity is missed, executing trades efficiently and reliably, giving you the ultimate handsfree trading experience; the computer never gets tired of waiting for just the right candle formation.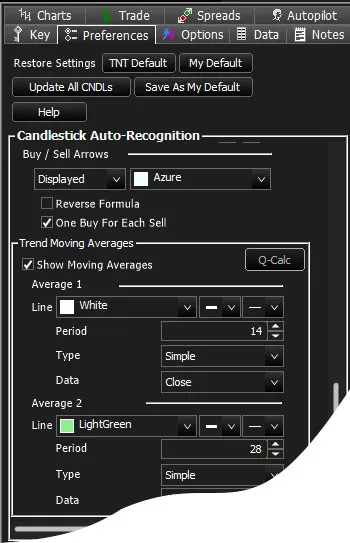 ---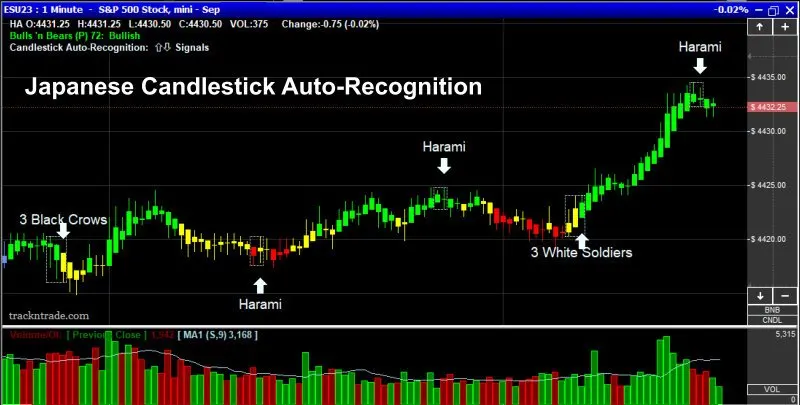 Track 'n Trade Candlestick Auto-Recognition
Free 14-Day Trial
Works With:
Windows 10 & 11
Mac running a Windows emulator
such as Parallels, Bootcamp VMWare, VirtualBox, etc.
Please Review Your Cart Details
item(s)
We Create Award Winning Technology