The Commitment of Traders Plug-in
Decipher and Leverage Other Traders' Positions to Your Benefit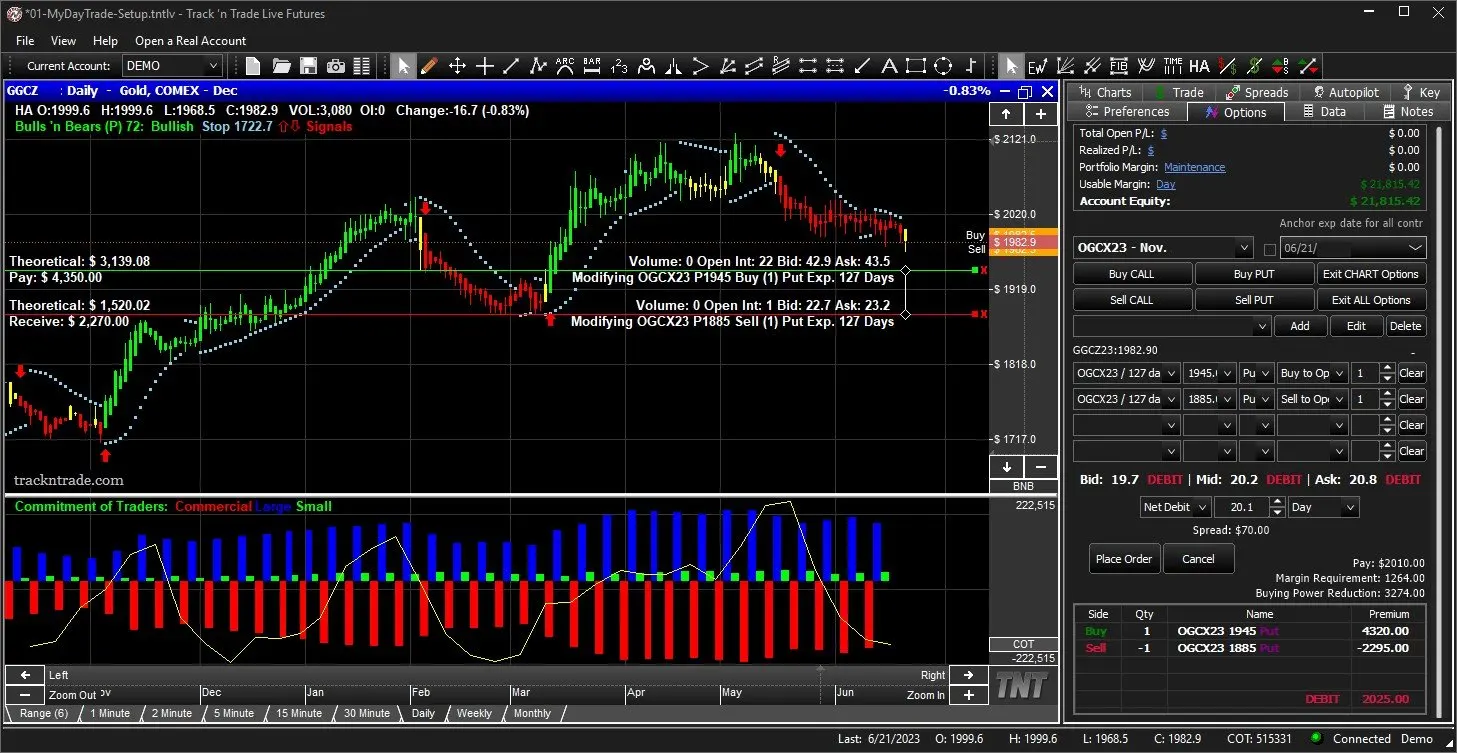 Commitment of Traders (COT) Plug-in
Unmasking Other Market Players
Demystify Market Dynamics: Uncover Who's Trading What
Amplify Your Trading Strategy: Tailor Insights to Your Advantage
Unveil the secrets of the trading world with the Commitment of Traders (COT) Plugin. This invaluable tool provides a unique window into the trading moves of major market players - from large speculators and savvy hedge funds to commercial traders.
The COT Plug-in dissects open interest in the futures markets, offering you the chance to ride the wave of market dynamics based on these influential actors' trading behaviors. This powerful insight lets you plot your strategies with enhanced confidence, potentially supercharging your trading outcomes.
Whether you're aligning with the big guns or strategically hedging against them, the COT Plug-in arms you with critical knowledge to navigate the trading waters. Don't just trade—trade smart, trade informed, trade with the COT Plug-in.
Unearth Crucial Market Data: Understand who is buying and who is selling, adding another layer to your market analysis.
Follow the Money: Gain insight into the trading activities of large & small speculators and commercial entities.
Visualized Market Sentiment: Benefit from a straightforward histogram representation directly on your chart.
Customizable Alerts: Adjust buy/sell signals according to your individual trading strategy.
Strategize with Confidence: Recognize the potential advantages of aligning your strategy with the actions of large speculators.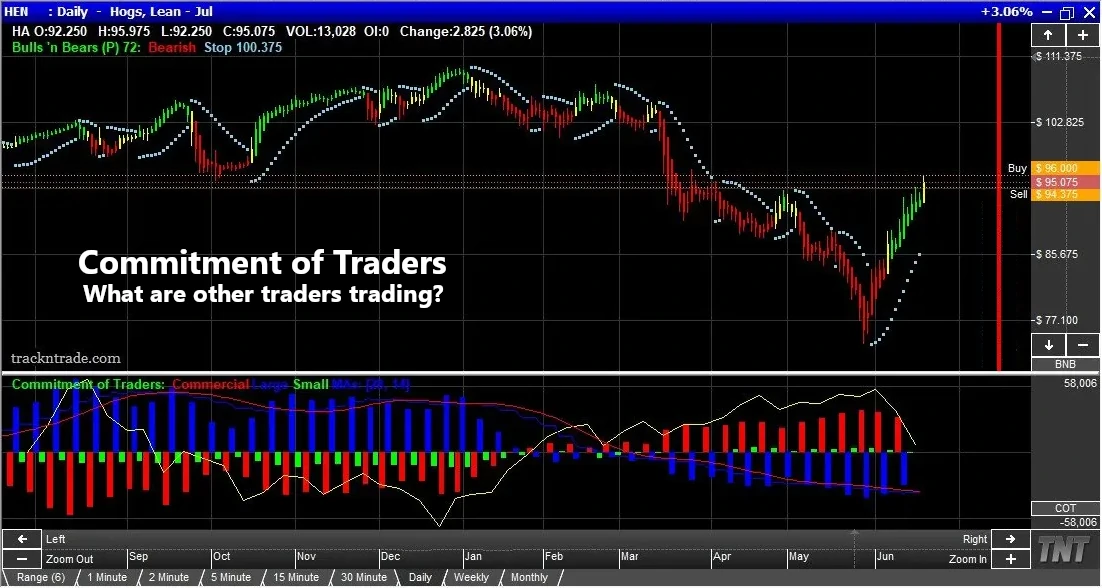 Navigating the Trading Landscape with the Colors of Insight
Differentiate between the key players in the trading game and follow the smart money using our color-coded system:
Blue - Large Speculators: Follow the high-stakes moves of professional money managers, banks, and hedge funds. Keep track of the "smart money," as their high-volume trades often set the market direction.
Red - Commercial Traders: Stay informed about the trading behavior of farmers and manufacturers who are naturally long the physical products. Watch as commercials typically sell into a rise in price, hedging their products.
Green - Small Speculators: Track the actions of individual traders managing their own accounts. Their activities can sometimes hint at emerging market trends.
A Complete Overview of Trading Volume
Get a comprehensive view of large trade volumes with Track 'n Trade's COT plug-in. Its customizable Buy/Sell Indicator gives you unprecedented insight into volume direction.
See what large professional traders are trading.
Access up to 10+ years of historical data to evaluate the effectiveness of COT signals**
Designed for seamless integration with both Track 'n Trade's Live Futures Trading Platform and End-of-Day Futures Charting Software.
Customizable buy/sell signals.
Don't just trade. Trade with confidence, armed with the insights from the Commitment of Traders plug-in. Make every trade count.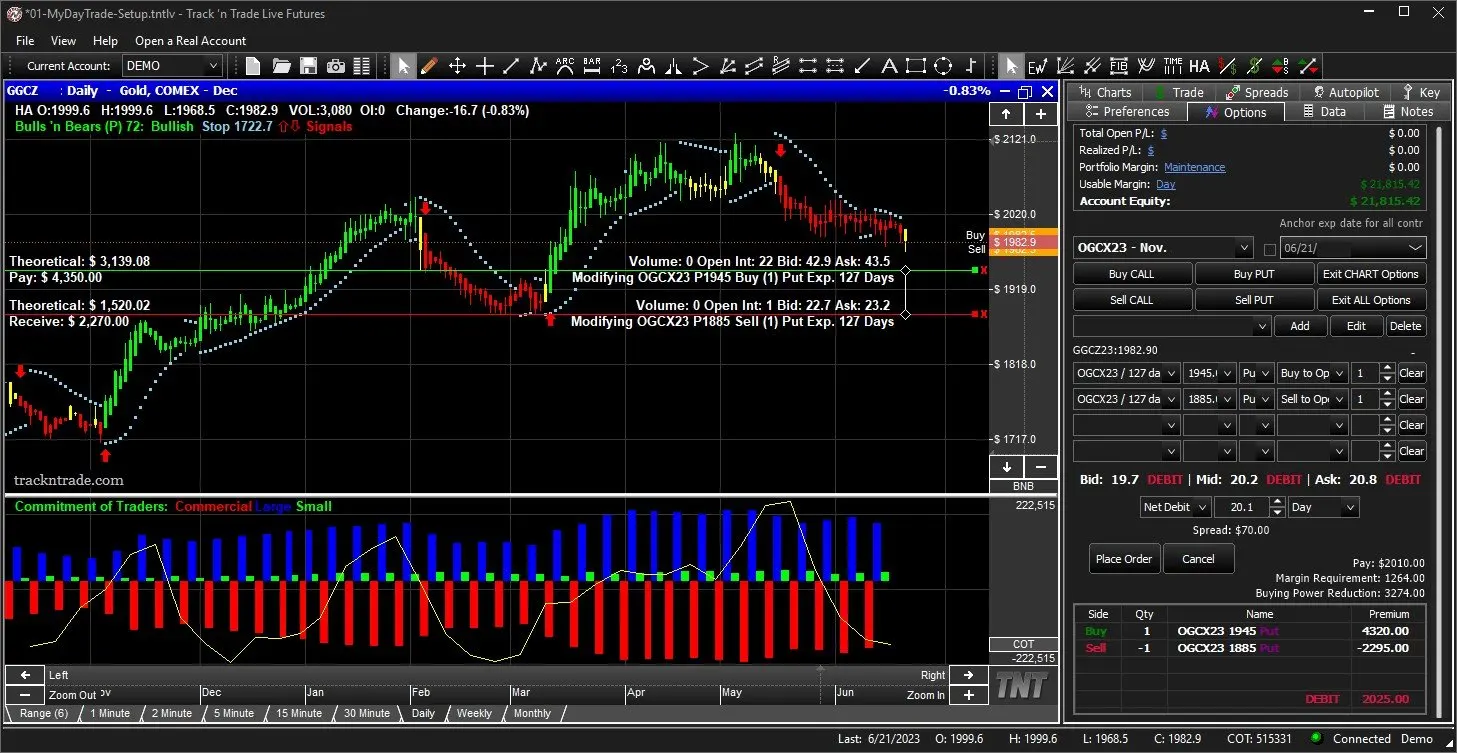 Uncover the Secrets of Market Sentiment with Commitment of Traders
Gain Insight into the Trading Activity of Professionals and Make Informed Decisions
Track 'n Trade Commitment of Traders Plug-in
Free 14-Day Trial
Works With:
Windows 10 & 11
Mac running a Windows emulator
such as Parallels, Bootcamp VMWare, VirtualBox, etc.
Add Commitment of Traders To Track 'n Trade
$197
On-Time Investment for plug-in Data Required
Please Review Your Cart Details
item(s)
We Create Award Winning Technology